©2016 by Sagittarian Mind Consulting
How do you begin talking about a masterpiece? I mean… where do you start? First of all I make no apologies for stating my personal opinion that I think Nas' Illmatic is one of the best (if not THE best) Hip-Hop albums ever created.
Many of us still want to know what the young, 19 year old upstart from Queensbridge was thinking during the making his debut album, which would go on to be critically acclaimed as a standard for Emcees everywhere.
With a heavy hitting "dream team" production from DJ Premier, Large Professor, Pete Rock, Q-TIP and LES, the red carpet was rolled out for Nas, and he delivered in such a colossal way that Illmatic will forever go on the list of albums that set a blueprint for hip hop greatness.
There's no question in my mind that Illmatic was needed in the universe right at the time it came out, and it embodied the qualities of that moment, as we'll see by looking at its birth chart.
It's apropos that the introduction to Illmatic is titled "The Genesis", which is a powerful expression of its 29 degree Aries Sun. This album signals a sense of "coming into being" and new beginnings, especially for the New York hip-hop scene.
In addition, Aries at the 29 degree mark suggests the height of competition. There's a glaring illumination of potential for a colossal impact in the world as reflected by its 10th house position near the top of the birth chart.
Illmatic's Aries Sun suggests being ignited by the fuel of "champion" or warrior energy where aspirations are centered on winning and being the best. There's no doubt that the cosmos confirms Illmatic being a pioneering album with aims toward being number one. Nas' masterpiece was given a coveted "5 Mic" rating (suggesting a "perfect album") from "The Source" Magazine, who at that time, held significant weight in the area of critical reviews of hip-hop recordings.
In the VH-1 documentary "Driven" MC Serch described Nas' success with Illmatic as having "Hit 10 Home Runs."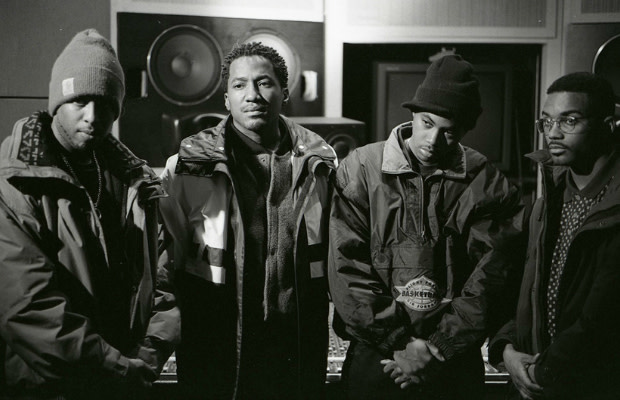 (photo: dj premier, q-tip, nas & large professor) source : complex magazine
When Mercury and Mars, which are also in Aries, are added to the equation, there's a "push" factor which undeniably holds the potential to force others into competition and prompt them to apply their will at a heightened level of assertion.
In fact, there have been numerous interviews from DJ Premier, Pete Rock, Large Professor, Q-Tip and LES which discuss the level of competition amongst producers in the making of Illmatic. One could easily argue that this is the finest group of hip-hop producers assembled for one album.
With the Sun's powerful developmental connections to both Uranus and Neptune, we're witnessing an album whose originality and genius, borne out of rebellion takes center stage. Nas, in stating his feelings about the recording of Illmatic said that he had to tell a story which was "all his own" (Sun-Uranus). This vibe is coupled with a poetic, flowing self-expression which provides inspiration through vivid imagery and the symbolic painting of pictures (Sun-Neptune).
(photo : nas and a.z.) source: stopthebreaks.com
According to Peter Rosenberg of the radio station Hot 97 in New York, Nas was hailed a "Hip-Hop Messiah of mythological proportions." (Sun-Neptune) upon the release of this album.
Illmatic's Leo Moon reflects the light of the Aries Sun through a personality which is fulfilled through gaining notice, praise and validation from others.
There was a big buzz surrounding Illmatic, so it wasn't just an album that came from out of the blue and snuck up on people. Nas also mentioned in an interview , sponsored by Google that he felt those hip-hop icons that had come before him, and had given so much to the art, HAD to like his album in order for him to feel complete. He wanted the likes of Kool G Rap, MC Shan, etc… those icons that he may just happen to run into at a local bodega in Queensbridge, to tell him "good job". Nas also mentioned the fact that his career could've been over if his album didn't receive the "co-sign" of those who were respected in hip-hop circles.
Also appropriate for the Astrological signature of Illmatic is its Cancer Ascendant. Nas' childhood picture (Cancer), graces the covering (Ascendant) of the album, along with his roots and foundation, Queensbridge projects, in the backdrop. Also, within the fold of the liner notes, there's a picture of his childhood friends as they sit on a park bench. Illmatic is filtered through the lens of nostalgia, with songs like "Memory Lane", and it also invokes an emotional response as a focal part of its identity expression.
Finally, it's Cancer rising speaks to a musical lineage, as Nas' father, Olu Dara, a jazz musician joins him by lending his musical talents on the LES produced track "Life's a Bitch". Not only did this track highlight biological family, but also artistic family, as it gave birth to A.Z's career, and he's gone on to become a hip-hop heavyweight in his own right.
In the aforementioned VH-1 documentary "Driven", Peter Rosenberg stated that the release of Illmatic put hip-hop in a position to be taken seriously as an art form, which it's Pisces MC flanked by Saturn strongly suggests: Not only serious art on the world's stage, but A standard bearer (Saturn) for music from a universal standpoint (Pisces).
Looking at Illmatic's 5th House, which outlines the domain in which both artistic and physical "children" are created, we see circumstances which surround birth, death and the underbelly and ills of life. The themes which pervaded this album weren't always pretty, yet there were also benefits and artistic riches to be unearthed from tumultuous circumstances on the path to meeting Illmatic's ultimate destiny (Jupiter, North Node and Pluto in Scorpio).
The death came before the making of Illmatic when Nas' best friend, Willie Graham, better known as "Ill Will" was shot and killed. According to Nas' brother, Jungle, in the VH-1 documentary, "Driven", this occurred on May 23, 1992. This had a profound effect on Nas and would later serve as fuel for a powerful and transformative creativity which connected to his self-expression. The birth would occur on June 15, 1994, a couple of months after Illmatic's official release date, and that would be his daughter Destiny.
Using whole sign houses, we can easily see that the 3rd/9th house MC/IC axis of Virgo and Pisces suggests that on all of Illmatic's tracks although Nas is speaking with exactness and precision (Virgo) about his experiences in his immediate environment (3rd house), the cosmic design is to balance that so a much larger sphere of the world (9th house) can relate for Universal (Pisces) understanding.
With the Taurus/Scorpio nodal axis, Illmatic, as a work of art had to find a way to make money (Taurus), while projecting a deeper significance (Scorpio) for hip hop culture. Although critically acclaimed, the album didn't immediately catapult to the heights of platinum status as did may more commercially recognizable albums. Nas' brother Jungle stated that Nas' advance for Illmatic was a mere $17,000 at the time, so he was forced to, at that time to consider a balance between regenerating (Scorpio) hip-hop and material comforts (Taurus). In many eyes, Illmatic (and Nas) wasn't/weren't receiving the return on investment which it deserved.
Fortunately for the hip-hop faithful, Illmatic is an album which is being discussed 20 + years from its release, and for Nas, it's enabled him to integrate the works' nodal axis on the strength of a brilliant display of artistry thereafter.
Representin' is Illmatic.